A new report on state prisons found that the incarceration rate of black Americans is almost five times that of whites.
Read Time:
2 Minute, 18 Second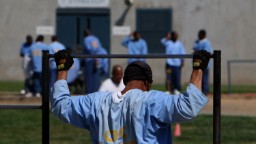 The report uses data and forecasts from the U.S. Census, the U.S. Bureau of Justice Statistics in recent years, and information provided directly from some states, and found that one in eight black adults in every 100,000 people in the U.S. are serving sentences in state prisons.
"If you don't recognize its racist basis, you can't make a truly meaningful reform of the criminal justice system," Ashley Nellis, a senior research analyst at the sentencing project, wrote in the report. "In order to eliminate racial differences, we need to immediately focus on the causes and consequences of racial differences."
The report released on Wednesday found that the incarceration rates of blacks and Latinos are "astonishingly disproportionate" compared to whites. In 12 states, more than half of the prison population is black. According to the report, the rate of Hispanics detained in state prisons is 1.3 times that of whites.
The sentencing project found that Wisconsin had the highest percentage of black prisoners. According to the report, one in 36 black Wisconsin is in prison.
A separate analysis of the Prison Policy Initiative found that adult correctional facilities in the state were overcrowded and failed during the pandemic. A 2013 study by the University of Wisconsin-Milwaukee Employment and Training Institute found that half of young black men from Milwaukee County In the state prison.
According to the report, Hawaii is the state with the smallest gap between blacks and whites, and it still imprisons blacks at "twice as many whites."
Nellis put forward three suggestions for resolving racial differences. These recommendations include abolishing mandatory sentences for all crimes, requiring racial impact statements to calculate the impact of proposed crime legislation on different groups of people, repealing existing racial bias laws, and legalizing low-level drug crimes.
According to the report, "Dozens of studies on racial differences have recurred three explanations for racial differences: the pain and lasting legacy of racial affiliation, biased policies and practices that cause or exacerbate differences, and the structural nature of perpetuating differences. Disadvantages".
Nellis wrote: "Although the long-standing racial and ethnic differences in the prison system have been a well-known feature of the prison system for decades, there have been few adjustments to policies or practices to directly address these issues, either inside or outside the judicial system. .".
Some elected prosecutors across the country have formulated their own policies to prevent mass incarceration by removing cash bail and not prosecuting low-level marijuana and low-level nonviolent crimes (such as loitering).
According to the report, the prison population in nine states has decreased by 30% or more in recent years: Alaska, New Jersey, New York, Connecticut, Alabama, Rhode Island, Vermont, Hawaii and California.