An 8-year-old girl defeated a deadly disease related to COVID-19 at the Johns Hopkins Children's Center-CBS Baltimore
Read Time:
1 Minute, 59 Second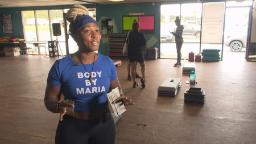 Baltimore (WJZ) – Morgan Dietz is known for his lively and social personality, but in September, the 8-year-old didn't feel like himself.
"I just felt bad, I just felt nonsense," she recalled.
read more: The Ravens and the Chargers meet in the division leadership matchup
She contracted COVID-19 in the summer.
She recovered and thought she was okay, until she started to feel sick again.
She learned that she had MIS-C, which is childhood multiple system inflammatory syndrome.
"It affected her stomach," Morgan's mother Lauren Dietz said. "She has pain all over. Her eyes are bloodshot. Just when we were sitting in the emergency room with her, the rash had spread to her stomach and feet."
This is a serious disease that can cause inflammation of major organs such as the lungs, kidneys, and brain.
In some cases, MIS-C can shut down organs and cause death.
Morgan is being treated at the Johns Hopkins Children's Center.
read more: Police: Attempted to steal ATM in Baoan Plaza Shopping Center
Her mother said that sometimes it was on the verge of breaking out.
"They pressed the password button and tons of people ran into the room and tried to work on her. It was horrible, and it happened twice," Lauren Dietz said
MIS-C is a new disease that began to affect children during the pandemic.
According to data from the CDC, there have been 5,000 cases and about 40 deaths since May last year.
"We are not used to children getting sick due to a new phenomenon, because we don't have enough expertise and knowledge to determine the best or correct treatment at the moment, so it's difficult," said Julia Sharon, Johns Hopkins Pediatric rheumatologist at the Children's Center.
Morgan's doctor said that the only way to prevent MIS-C at the moment is to vaccinate anyone who can be vaccinated, because children like Morgan cannot yet be vaccinated.
"Everyone wants to go back to normal life," Lauren Dietz said. "We want as much as the next family. The only way is to protect each other through vaccinations."
Morgan will continue to be monitored to ensure that MIS-C will not come back.
more news: Former Raven Bart Scott believes that WR Marquise Brown will not start in most top teams. Brown called it "stupid"
Once eligible, she will be vaccinated.