Balloon World Cup: Living room acrobatics win Peru's first championship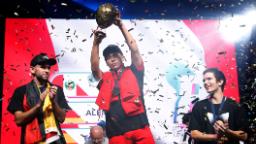 Inspired by a series of viral videos, organized by Barcelona footballer Gerard Pique and Internet celebrity Iba Llanos, the first Balloon World Cup was held in Tarragona on Thursday.
Francesco De La Cruz became the first champion in the final after beating German Jan Spiess 6-2 on an 8×8 meter pitch, which was littered with living room furniture and a small car.
"I am very, very happy, and I thank God for allowing me to do this," said the Peruvian teenager.
The rules of the game are simple. The player must hit the balloon upwards, and if the opponent fails to prevent the balloon from touching the ground, they will score.
0
0