Baltimore brothers raise $2,000 for turtles at aquarium for fake shells – CBS Baltimore
Read Time:
1 Minute, 20 Second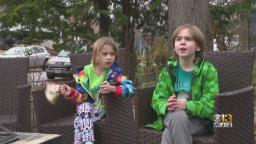 Baltimore (WJZ) — Brothers Stephen and Matthew Coleman, 10 and 7, share their passion for turtles at the National Aquarium.
So it's no surprise that when they hear that a particular turtle needs a new shell, they help.
read more: Code Blue announced ahead of low temperature earlier this week
"I started fundraising because I love turtles," said 10-year-old Stephen.
Kai, a 5-year-old green sea turtle, suffered severe damage to her shell after being hit by a boat.
After she recovered, the aquarium team noticed that she still had gastrointestinal and buoyancy issues that prevented her from diving and finding food.
After brainstorming ways to help her get a prosthetic shell, the boys came up with the idea for a 5-K and ran.
read more: Bibby leads Maryland 87-73 over Minnesota 10 with 23 points
"The 5-K run is called the turtle race," Stephen said.
"We raised $2,000," added 7-year-old Matthew.
The boys took a large check, all smiles, and sent the money to Kay at the aquarium's rehab center.
"Kids can change a lot. They can do a lot of things. Let them try," said their father, Sean Coleman.
When asked why they did it, Stephen's answer was simple: "I just do it for the turtles."
more news: Roethlisberger, Steelers close to playoffs after overtime win
The brothers said they plan to continue raising funds in 2022 to help more turtles.


Source link
You have to be inform about what is happening in USA go to united states news to see more.
0
0