Biden will meet with Trudeau and Lopez Obrador to participate in the first US-Canada-Mexico summit since 2016
Read Time:
2 Minute, 19 Second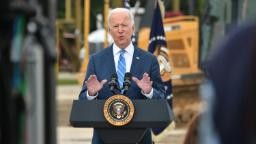 "During the summit, the United States, Mexico, and Canada will reaffirm their strong connections and integration, while also opening new paths for cooperation to end the COVID-19 pandemic and promote health security, competitiveness, and equitable growth, including climate change. ; And the regional vision of immigrants," a White House statement said.
It has been five years since leaders convened a trilateral summit. During the tenure of former President Donald Trump, there was no formal summit between the leaders of these three countries.
The White House said in a statement: "Strengthening our partnership is essential for us to better rebuild and revitalize our leadership position and respond to a wide range of regional and global challenges."
It continued: "With respect for each other's sovereignty and in the spirit of true partnership, we reaffirm our unwavering vision that North America is the most competitive and dynamic region in the world."
The summit was held shortly after the United States began to relax travel restrictions on fully vaccinated tourists from Canada and Mexico, and eased the ban that has been implemented for more than 18 months.
Since the beginning of the Covid-19 pandemic, the United States has been restricting non-essential travel on the ground bordering Canada and Mexico and extending these restrictions on a monthly basis. These travel restrictions are subject to strict scrutiny by legislators and border mayors, who urged the Biden administration to adjust the restrictions to adapt to the changing situation.
The US-Mexico border is also facing a large influx of immigrants, and resources are overwhelmed. This has caused some concerns among U.S. Customs and Border Protection officials to relax travel restrictions on the southern border of the United States and increase personnel to assist the increase in the number of immigrants.
Although the leaders of these three countries did not hold a summit during the Trump administration, they did reach an agreement to update the North American Free Trade Agreement under the Clinton era.
Trump signed the United States-Mexico-Canada agreement early last year. The agreement was signed by the leaders of the three countries in November 2018, but after months of closed-door negotiations between the Trump administration and House Democrats, the text was later changed.
The USMCA includes new regulations for digital commerce, stricter rules of origin for auto parts, and new minimum wage requirements for certain auto workers.
Since taking office, Biden has had a virtual meeting with Lopez Obrador and Trudeau. The president recently met Trudeau at the G20 summit in Rome.
This story has been updated with additional background information.
Priscilla Alvarez of CNN contributed to this report.


Source link
You have to be inform about what is happening in USA go to united states news to see more.