Demi Lovato believes that the term "alien" is "derogatory" to aliens
Read Time:
1 Minute, 0 Second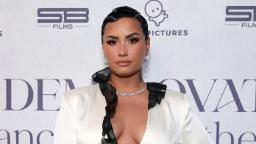 The singers and actors identified as non-dualistic have a documentary about peacocks, titled "Unidentified with Demi Lovato", and they explore the possible existence of life outside of this planet.
In an interview with Pedestrian, Lovato explained that they do not believe that creatures from another planet intentionally harm humans.
They said: "I really think that if anything wants to do this to us, it has happened now." "But I think we must stop calling them aliens, because aliens are anything Derogatory terms. That's why I like to call them ET!"
The term "alien", when used to refer to immigrants or people from other countries, has caused controversy and is considered dehumanized by immigration advocates.
Lovato told the publication that the purpose of the series is "to understand how much we need to take care of our planet, and how much we need to learn how to expand our consciousness."
"I think the world is becoming more open," the star added. "Slowly, but to be sure, I think we are making progress. And we are slowly getting there. But, you know, any progress is progress!"
CNN has contacted a representative of Lovato for more comment.
0
0