FIFA President Gianni Infantino sees Qatar's "great progress" in workers' death reports
Read Time:
1 Minute, 49 Second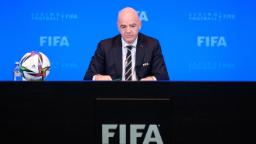 In an interview with Amanda Davies of CNN Sports, Infantino reported on human rights issues in Qatar (Thursday's latest report from the International Labour Organization (ILO) ) Was questioned.
The ILO report last week stated that at least 50 workers in Qatar had died in 2020, noting that the country's investigation into these workplace deaths was insufficient. NGOs claim that migrant workers involved in World Cup infrastructure projects have been abused and abused.
The Ministry of Labor of Qatar said in a statement that "the death toll of migrant workers reported by the media is extremely misleading."
"The government has always been transparent about the health of our foreign population. In fact, Qatar's mortality rate is comparable to the broader demographics of the world. However, improving the health and well-being of foreign workers remains a top priority," the ministry added.
read: Qatar prepares for the 2022 World Cup because it strongly opposes allegations of violations of workers' rights
Although Infantino said "more work needs to be done", he said he has seen the progress made by this Gulf country.
Infantino said to Davis: "I have seen great changes in Qatar, which is generally accepted-I don't mean FIFA-but trade unions and international organizations around the world."
"Of course, more work needs to be done-obviously, this is a process. I think we can say that without the World Cup and… the spotlight from the World Cup, the whole process will take more time.
"Measures have been taken, and measures will be taken. If we want to encourage those who accept Qatar's approach to continue to do so, acknowledge what has been done, and look at specific things, we also need to recognize the positive facts and figures. Make the necessary criticisms, but always try to be constructive, looking at what has been done in a positive sense, and what can be done more."
The 2022 World Cup will open in Qatar on November 21 and end on December 18. This is the first time in history that the World Cup will be held in winter.

To know more about your favorite sport go to sports news
0
0