Fortune 500 CEO: "Work-life balance is a lie"
Read Time:
1 Minute, 42 Second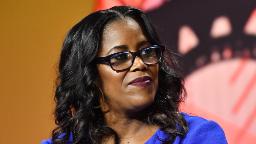 "Work-life balance is a lie," Thasunda Brown Duckett, President and CEO of TIAA, said at Fortune's Most Influential Women Summit on Tuesday.
When she tried to achieve a more balanced lifestyle, Duckett said, "It has never been reconciled…. The'S' on her chest is not a'Superwoman'. It is written for "expense".
Therefore, Ducat, who manages more than $1 trillion in assets at TIAA, tries to live his own life. It's more like a diversified investment portfolio.
This is what she meant: considering She suggested that you play all the roles (for example, employee, spouse, parents, sisters, daughters, friends, etc.), and then allocate your time to each role.
She reminded the upper-level colleagues present at the meeting that no one can dedicate themselves 100%, so the allocation will be different according to the needs of different periods in your life.
"Like the stock market, it also fluctuates. So you allow yourself to readjust. … As a mom, my children will not get 100%, they may get 30%," Duckett said. However, she added that this percentage will rise when her children need it.
As with a diversified portfolio, don't expect to excel in every investment every day. She said the goal is to "surpass this thing called life" over time.
"At any time, I may not be the best mother. But over time, I am a very good mother. On any given day, I may not feel that my job as CEO is at its best. Over time, I think I am a good leader."
Last spring, Duckett took the helm of TIAA. Currently, she is just one of two black women who run a Fortune 500 company, and the fourth in history to do so. She is also ranked 10th in Fortune magazine's 2021 list of the most influential women.
At the summit meeting on Tuesday, she emphasized that she and other influential platforms need to continue to urge women and minorities to be better represented on the board and at the highest level.
0
0