Gallery: Community celebrates 99th birthday of Auburn WWII veteran | Photo Gallery
Read Time:
1 Minute, 34 Second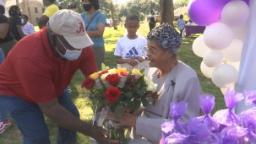 In the life of Robert Strohm II, he found few examples of his speechlessness. One of the moments arrived early on Saturday afternoon when he was surrounded by family and friends, and a team of vehicles greeted him at his home in Auburn on Saturday.
Although his actual date of birth was October 12, there were still about 15 cars participating in the car parade celebrating Strohm's 99th birthday in front of his residence on Nelson Street. There was a moment of silence, and he did not stay so long.
He greeted various blessers, including local law enforcement officers, and they stopped briefly in front of him to talk or hug him. With a walking stick engraved with the U.S. Navy badge on his side, Strom approached everyone around him with a permanent smile on his face, deliberately joking with everyone on his way.
Some people extended their arms from the front door, approached him holding cards or balloons, and quickly welcomed him with cheerful shouts. The event was organized by Cher Guariglia, who has been neighbors with Strohm for more than 35 years.
His son Robert "Bob" Strom III said that Strom served as a medic in the U.S. Navy and served in the Navy's amphibious force. Strom II served in the navy from 1941 to 1945, having traveled to Sicily and southern France. After the war, he moved from Kansas City to Auburn. He worked at International Harvester from the late 1940s to the early 1950s, and then worked for the American Locomotive Company for 35 years before retiring.
Before the parade began, Strom sat in his chair for a while and said that he didn't know why he should be respected.
"Thousands of other people have done more than me, but of course, my neighbors, they are so kind to me," he said.
0
0