High school students shave their heads to commemorate Ali Dugan
Read Time:
2 Minute, 15 Second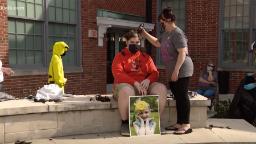 Ari's brother Aidan organized an event at Ladue High School to raise funds for childhood cancer research
Radu, Missouri-At Radu High School, today is a good day for a haircut.
Aidan Dougan, 17, had his hair for two and a half years.
"I have grown it 9 inches, or maybe 10 inches," he said.
But even if he still needs to take his most important high-level photos, he is about to shave all.
"To say I'm proud is an understatement," his mother Lori Zucker said.
This is part of a fundraiser for the St. Balderic Foundation, which raises funds for childhood cancer research. Few people know better than Aidan why this research is so important.
Aidan's sister Ari is one of the few people who can create her own sunshine.
"She was a lively and funny person, always telling jokes," Aidan recalled.
When she was only three years old, Ali was diagnosed with neuroblastoma, a cancer that develops in nerve tissue and usually affects children under five. Such a small person shouldn't have experienced so much, but it will never dim Ali's smile.
"From the age of 3 to 11, she went in and out of the hospital," Zack said. "Doctors and nurses are her friends, and she makes the most of her time."
Parents should plan their children's future, they should not plan funerals. But in November 2017, Ali passed away.
So this day at Ladue High School is not about hair, but about the heart.
Although Aidan liked his long hair, when he shaved it off, something important happened.
"I will receive questions about it, and I can help spread awareness in this way," Aidan said.
In fact, some of Aidan's friends put vanity aside and shaved their heads to support.
Noah Marut, 17, also shaved his head. He said: "We have a lot of thoughts about ourselves in our minds, so I think it's a very good thing to consider other people's changes."
Less than 4% of the federal cancer research budget is dedicated to childhood cancer.
"That's why the family likes us. We have to raise funds to save our children," Zack said.
Commemorate his sister by cutting in above. A young man showed us the beauty of baldness.
"We can accept her light, we can accept her kindness, and since she no longer spreads it here, we can spread it for her," Zack said.
Lori and Dougan's also established a foundation to help children fight cancer, called "Spread Ari's Light", and they will host a large fundraising event next month.
If you want to help, please visit SpreadArislight.com.