Jay Weaver, member of Big Daddy Weave, died after the Covid-19 battle
Read Time:
1 Minute, 13 Second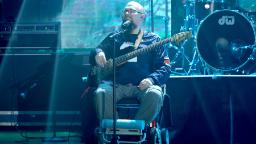 He is 42 years old.
"Hello everyone. Thank you so much for all your prayers for my brother," Mike Weaver said in a video posted on the band's verified Instagram account. "You went through a fierce battle with him. I'm sorry to bring this news, but I am also happy to celebrate his current position. My brother Jay went to be with Jesus a few hours ago, because in addition to his Beyond everything we did, due to complications caused by COVID-19," Weaver said.
The band had earlier posted a prayer for musicians who were hospitalized with Covid-19 a few days ago.
The post includes a statement from his wife Emily.
"He is fighting hard," her statement read. "I can see it on him when I look through his doors and windows. Yes, he has a terrible virus. I just hope my best friend/everything is okay."
According to a post on the website of their record company Curb, Weaver had both feet amputated after being severely infected in 2016.
The band posted an update on his health status on Instagram in 2020, saying that Weaver is undergoing dialysis "to help kidney function".
Big Daddy Weave has been active in the Christian music industry for decades and has achieved success on the charts with songs such as "My Story" and "I Know".



would you like to know more about your favorite influencer? go to entertaiment news
0
0