'Peacemaker' puts John Cena and James Gunn to the fore in goofy 'Suicide Squad' spinoff
Read Time:
2 Minute, 20 Second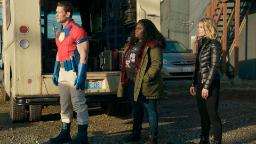 Gunn planted the seeds for the show in August's "Squad" movie, which feels like a pretty fantastic move, moving Cena's weapons-specialist assassin from an ensemble to center stage, surrounded by new characters and bizarre A science fiction-esque threat to humanity, albeit very slowly.
Cena's massive physique belies his comfort level as the Joker, and Peacemaker gives both him and Gunn the opportunity to enjoy themselves in the most R-rated fashion under the supervision of precious little adults.
Alas, as interesting as they look, it's another story. Even for comic book geeks, wink jokes and coy references to the more revered quadrants of the DC universe are starting to feel overdone, narrowing the project's appeal. Again, while some of these insider moments are clever, they're often just childish.
Granted, this general attitude works for Deadpool, even if the appeal is limited to a fanatical contingent, which may be good enough for a streaming service looking to build loyalty (like CNN, HBO Max is a unit of WarnerMedia). Even so, "Peacemaker" feels a little too focused on the superhero type of small ball area.
After a near-death experience in the film, Senna's peacemakers are released into the custody of an elite team tasked with carrying out assassinations to avoid existential dangers largely hidden from plain sight. The squad includes another newcomer ("Orange is the New Black" Danielle Brooks) with her own secrets, a fierce leader (Chuk Udi Iouji) and his second-in-command (Jennifer Brooks). Holland), despite a claimed lack of interest by peacemakers.
Even more stupid is Vigilante (Freddie Stroma), another costumed assassin who looks up to the Peacemaker and is even more unapologetically psychotic.
Eventually, the different threads started to merge, but Gunn — who wrote all eight episodes and directed several — seemed more fascinated by the overall vibe than advancing the story, detours and musical flourishes along the way. That includes a grim subplot involving Peacemaker's father (Robert Patrick), a white supremacist with a dark history even by the show's all-encompassing standards.
In eight episodes, "Peacemaker" represents both a rather light-hearted binge and the excesses that come with streaming as a lure for big-name talent. While there won't be much of a theatrical market for a dedicated spinoff, on HBO Max — already home to DC series like "Titans" and "Doom Patrol" — it's more ammunition to retain die-hard fans , and creatively speaking, all bets are off.
By this standard, "Peacemaker" doesn't quite miss out, at least for those inclined to buy it. But even taking that into account, and Gunn's shotgun approach to comedy, it doesn't quite find its purpose.
"Peacemaker" premieres three episodes on HBO Max on January 13.

would you like to know more about your favorite influencer? go to entertaiment news