The Department of Justice asks the Fifth Circuit to stop the Texas abortion ban during the appeal of the case
Read Time:
1 Minute, 56 Second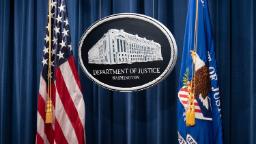 The Department of Justice stated in its documents that allowing the injunction to continue to be effective "will extend" its "substantial damage to the sovereign interests of the United States and will harm the public interest."
By "ignoring the Constitution and frustrating judicial review, Texas has not only prolonged attacks on its civil rights; it has also rejected its obligations under our national contract in a way that directly involves the sovereign interests of the United States," The Justice Department stated in its summary that it submitted it nearly one day before the deadline.
Last week, the Justice Department received a preliminary order from U.S. District Judge Robert Pitman to block the injunction.
On the morning after Pittman issued the order, some clinics in Texas resumed abortion services for patients who were pregnant for more than six weeks. The clinic did this at some legal risk, because Texas law allows enforcement actions against abortions performed while a court order preventing the law is in effect, if the higher court later revokes the order.
On Friday, at the request of the State of Texas, the Fifth Circuit imposed a brief administrative suspension on Pittman's order, effectively restoring the law. The Fifth Circuit is now considering whether to maintain the force of the law when considering Texas's appeal against Pittman's order.
The Justice Department said on Monday that the Court of Appeals should revoke administrative detention and reject Texas' request that the law remain in force during the appeal period. According to the law, after the detection of fetal heart activity, ordinary citizens can file a state court lawsuit against the clinic or anyone assisting in the abortion-approximately after six weeks of pregnancy, usually before the woman knows that she is pregnant.
The law does not provide for exceptions for rape or incest, except for "medical emergencies".
In its briefing, the Department of Justice refuted Texas' wrong statement that Pittman directed his order against state court officials and others.
"Choose this extremely unusual method to enforce its unconstitutional laws. If Texas is not satisfied with the specific mechanism adopted by the district court, it is obliged to determine an alternative form of injunctive relief. It is clear that Texas The state has not done this," the department said.