U.S. household debt climbed to a new record of $15.24 trillion last quarter
Read Time:
2 Minute, 19 Second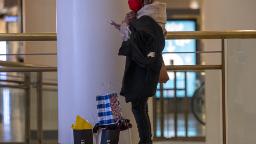 The Federal Reserve Bank of New York said on Tuesday that between July and September, US household debt climbed to a new record of $15.24 trillion.
Compared with the second quarter of this year, an increase of 1.9%, or 286 billion U.S. dollars.
"As the pandemic relief efforts gradually come to an end, we are beginning to see some credit card balance trends reversing during the pandemic," such as reducing spending to repay debt balances, New York Fed.
Now that the sugar stimulus craze has passed, consumers have returned to the old way of spending with credit cards. As in the second quarter, credit card balances increased by $17 billion. But compared to the end of 2019 before the pandemic broke out, they are still US$123 billion lower.
Mortgage loans are the largest component of household debt, which increased by $230 billion in the last quarter to a total of $10.67 trillion.
Auto loans and student loan balances also increased, increasing by 28 billion U.S. dollars and 14 billion U.S. dollars, respectively.
Although credit card debt has not yet returned to pre-pandemic levels, total debt is already $1.1 trillion higher than at the end of 2019.
Higher inflation spurs high spending
Americans now spend a lot of money. Economists' explanation is largely "because they can."
As the labor market recovers and worker shortages push up wages, people's wallets are filled before the holidays.
This is a good thing, because everything is becoming more and more expensive.
Due to supply chain disruptions that increase transportation and raw material costs, inflation is at a multi-year high. At the same time, consumer demand is also rising.
The latest inflation data earlier on Tuesday showed that the prices of products received by producers rose 0.6% in October, adjusted for seasonal fluctuations, or 8.6% during the previous 12 months. Most of the growth is due to higher energy costs.
Companies can only absorb so much price increases before passing on higher costs to the final consumers.
Excluding energy and food prices and trade services, the producer price index rose 0.4% on a seasonally adjusted basis last month, or 6.2% in 12 months.
The price index for processed goods tracking intermediate demand (ie, goods and services sold to companies) rose 2.1%, the largest increase since May, mainly driven by rising energy costs.
In the 12-month period ending in October, the index rose 25.4%, the largest increase since January 1975.
Consumer price inflation, which tracks the prices of food and housing in October, will expire on Wednesday morning.


Source link
You have to be inform about what is happening in USA go to united states news to see more.