UNC: The University of North Carolina can continue to use race as a factor in the admissions process, the judge rules
Read Time:
2 Minute, 33 Second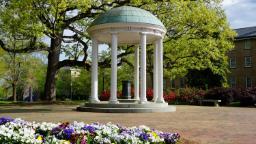 The ruling was made after the Student Fair Admissions Organization filed a lawsuit in 2014 that argued that UNC used race in its admissions process and deliberately discriminated against certain members based on race and other factors.
In the lawsuit, the organization accused UNC of "adopting racial preferences in undergraduate admissions, if there are racially neutral alternatives that can achieve student diversity," and "adopting an undergraduate admissions policy that uses race as an admission factor."
In Monday's ruling, Judge Loretta Biggs stated that UNC did not discriminate and that the university can continue to use race as a factor in the undergraduate admissions process.
Biggs wrote: "The University of North Carolina has clearly demonstrated that its undergraduate admissions program can withstand strict scrutiny and is therefore constitutionally permitted," adding that the university "participates in a highly personalized overall admissions program."
"Although no student can or should be admitted to this university or any other university, it is entirely based on race, because race is intertwined with all aspects of the life experience of minority students, ignore it, reduce its importance and only through the following methods To measure it, the statistical model made by SFFA ignores important backgrounds, including covering up racial barriers and obstacles that have been faced, overcome, and have not yet been overcome," Biggs wrote.
SFFA said it will appeal the ruling.
"Students' fair admissions are disappointed by the court's support for UNC's discriminatory admissions policy. We believe that the documents, emails, data analysis and testimony submitted by SFFA in the trial convincingly reveal UNC's systemic discrimination against non-minority applicants ,"​​SFFA Chairman Edward Bloom said in a press release.
"SFFA will appeal this decision to the Fourth Court of Appeals and the U.S. Supreme Court," Blum added.
According to the UNC website, of the 5,630 new students this year, 65% are white or Caucasian, 21% are Asian or Asian American, 12% are black or African American, and 10% say they are Hispanic, Latino or Latino.
"This decision clearly demonstrates that the university's overall admissions method is legal. We evaluate each student in a thoughtful manner, appreciating personal strengths, talents, and contributions to the vibrant campus community, so that students from all backgrounds can stand out. Thrive," Beth Keith, the vice president of the university's communications office, said in a statement.
In June, the Supreme Court effectively postponed a lawsuit against another SFFA challenge, which was also filed in 2014, this time against Harvard University.
The challenger argued that the Ivy League schools are more demanding of Asian Americans and basically limit their numbers. The school countered that it has no restrictions on Asian American students and that all applicants are considered individually based on many characteristics.
The High Court issued an order requiring Biden's Department of Justice to issue an opinion on the case, effectively delaying a decision on whether and when to hear the dispute.

You have to be inform about what is happening in USA go to united states news to see more.